"Colligo GIS has revolutionized the way we manage and track our assets."
Jacob Mayer, Marquette Board of Light & Power
Desktop
'Desktop' is the in-office side of Colligo GIS. Providing the typical tools you would find in desktop GIS software as well as some unique items, all while being cloud-based for a maintenance free experience. Allowing users to access, update and analyze their GIS data in a centralized location.
Searching, Reporting & Multi-Selection
Buffers & Measurement Tools
Interactive Parcel Mapping Tools
Reporting & Analysis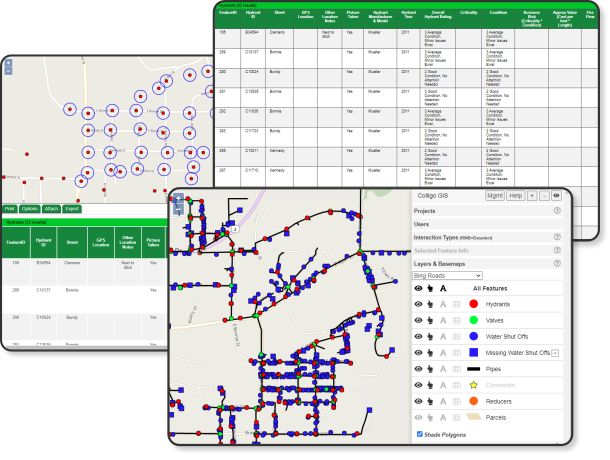 Mobile
'Mobile' is the field data-collection side of Colligo GIS. Giving field crews a streamlined interface to necessary GIS data in an automatic online/offline environment. With real-time editing, changes are automatically synced between field and office staff, keeping everyone updated with the latest content.
Simple-to-Use Creation and Editing Tools
Conditional Forms & Classifications
Geo-Referenced Image Overlays
Navigation Tools to Find Real-World Locations
Compatible with Precision GPS Devices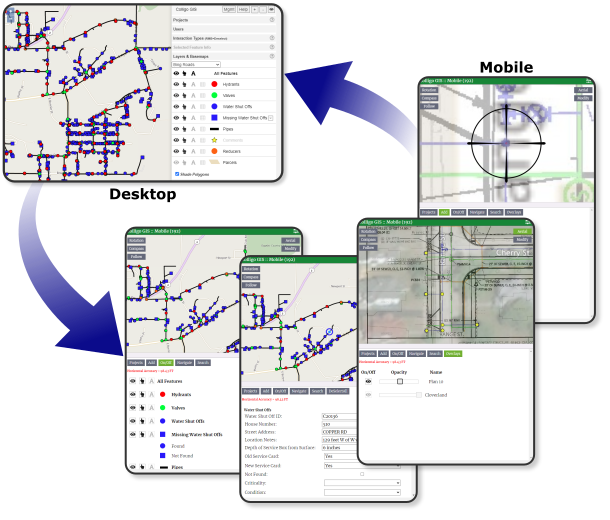 Management
'Management' is the administrator's portal into Colligo GIS. Allowing complete control over projects, GIS layers and user access. Adminstrators can create GIS layers from scratch or import from other data sources. Define custom/conditional forms and styling per project.
Create/Manage/Assign Projects
Import/Export Datasets
Create/Manage Image Overlays
Manage User Access on a Per-Project/Per-Layer Level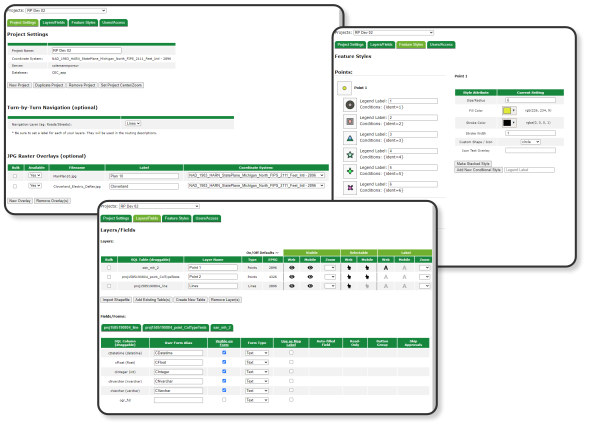 User Pricing
Desktop
Mobile
Management*
Custom Integrations
$50
$100
$150
Contact Us
user/month
user/month
user/month
Desktop Features
Feature Creation/Editing
✔
✔
✔
✔
Search & Reporting
✔
✔
✔
✔
Change Verification/Approvals
✔
✔
✔
✔
Measurement Tools
✔
✔
✔
✔
Enhanced Parcel Mapping
✔
✔
✔
✔
Bulk Attachments
✔
✔
✔
✔
SHP & KMZ Exporting
✔
✔
✔
✔
Standard & 360° Photos
✔
✔
✔
✔
Mobile Features
Feature Creation/Editing
✔
✔
✔
Real-Time Online/Offline Access
✔
✔
✔
Photo Attachments
✔
✔
✔
Searching
✔
✔
✔
Navigation (Straight & Turn-by-Turn)
✔
✔
✔
Raster Image Overlays
✔
✔
✔
Management Features
Create & Manage Projects
✔
✔
Define Permissions Per-Project/Layer
✔
✔
Conditional Forms & Styles
✔
✔
SHP & KMZ Importing
✔
✔
Raster Overlay Controls
✔
✔
Custom Integrations (e.g.)
Client-Side Database Storage
✔
BS&A Connections
✔
Custom Software Integration
✔
* At least one management user is required per account. Each user account includes 5GB of storage/transfer per month. Additional blocks of 25GB may be purchased for $5/mo. Read-only maps can be created for public use. Colligo GIS management & support services are also available upon request.
About
Colligo GIS was born from a simple need, to create a more accessible GIS solution.
Your GIS information is extremely valuable. The expense, in both time and money, to create GIS data is substantial. The expense to maintain it shouldn't be. Unfortunately, the complexity and cost of current GIS solutions inhibit maintenance needs. Colligo GIS solves this problem by providing a secure and easy to use, cloud-based GIS platform that substantially reduces these prohibitive factors of cost and complexity.
Colligo GIS makes GIS available to those who have a need for a powerful, yet simple and cost-effective solution.
Start a Free Trial